Here we are again, back to the fray with Kekoa, Master of Courage and First Hunter of the Makoa Tribe. A man of action, impassible even facing the most adverse situations. When it is required, he is a shadow, merging with the jungle itself. He is obsessed with perfection, trying to be what is expected of him and more. Due to the fact that in an incident from his youth he didn't make the grade, now he strives to be the greatest exponent of the Makoa on the physical plane.
Here he is, at the Makoa Sacred Grounds, posing with Mirk and Kirm. Yes, his spear is waiting for paintwork.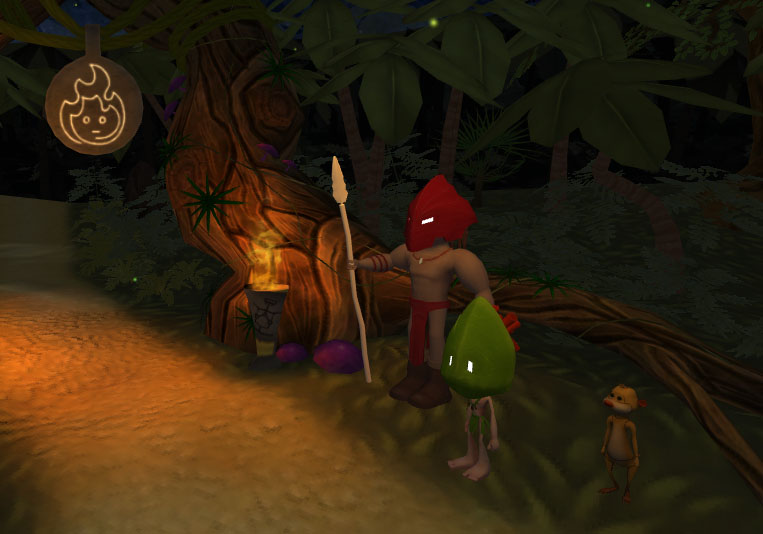 Kekoa doesn't like to say more words than necessary and always keep a stoic and unvaried voice. However, this doesn't mean that he is a bad teacher. He is tough, but fair and a very capable Makoa in terms of judging people.
During Kirm's rite, he will guide him through the Path of Courage and will teach him about the relationship between the Makoa and the Meerkats. How they are a sole tribe. Even more, each Makoa possess something called Power Link with a Meerkat. This link represents that every Makoa has an incomplete soul, being his or her other half in the jungle, in a Meerkat's body.
Many Makoas never meet his or her Power Meerkat, but this doesn't mean that the link does not exist. In fact, if a Makoa dies, his Power Meerkat also dies and vice versa. This is why (in addition to their close relationship) Makoas do not hunt Meerkats and try to protect them whenever is possible.
As with Ailani, we have made a new 3D model as mighty as Kekoa himself.
And that's all for now. Only one Master left! Waha Nui, Master of Spirit, Shaman and Grouchy Old Man.
Farewell.